Finding Reference materials for some grades of Titanium and Nickel Alloys can be challenging. ARMI is always seeking to support the needs of analytical laboratories working with metal alloys.
We have been listening to the needs of the industry and are pleased to introduce new certified reference materials for 6 grades of Titanium and Nickel alloys including: Ti 6-2-4-2, Ti 10-2-3, Ti 6-4, Ti 6-4ELI, Ni 725 and Ni 825.
The new product part numbers and corresponding alloy grades are listed below. The products are available as 38mm diameter x 3mm thick disks for XRF, 38mm diameter x 19mm thick disks for OE and as chips for ICP.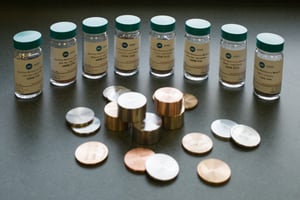 Visit our New Product Page to view and download the certificates of analysis for these reference materials.
Contact our technical team for any questions regarding these products.
| | |
| --- | --- |
| Part Number | Grade |
| IARM-Ti6242-18 | Titanium Alloy 6-2-4-2 |
| IARM-Ti1023-18 | Titanium Allow 10-2-3 |
| IARM-Ti64-18 | Titanium Alloy 6-4 |
| IARM-Ti64ELI-18 | Titanium Alloy 6-4ELI |
| IARM-Ni725-18 | Nickel Alloy 725 |
| IARM-Ni825-18 | Nickel Alloy 825 |
---