Our team at ARMI | MBH is continuing their work to develop more new products to ensure that we can provide the products you need for your analytical testing. If you want to learn more about any one of products listed you can simply click on the links to view the certificate of analysis.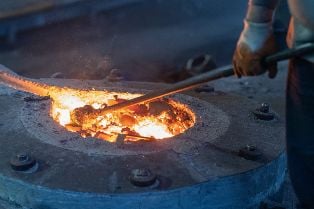 Ferroalloys are binary or ternary alloys containing iron alloyed with one or two additional elements. While often produced as an intermediate product for iron and steel manufacturing, some ferroalloys are used as final products; for instance, ferrosilicon is used as a heavy media in gravity separation of diamonds during kimberlite mining.
Ferroalloys are typically produced in furnaces by reducing oxides using carbon while being mixed with iron. The chunky material produced in the furnace is then crushed and milled into a powder and homogenized. The powdered ferroalloy can then be used as is, or mixed into a melt to alter or control the alloy composition.
In addition to the primary alloying elements, ferroalloys may contain additional elements at minor or trace levels, depending on purity and specifications. Careful monitoring of major elements is necessary to control the final ratio of alloying elements, monitoring of other elements is necessary to maintain the desired purity threshold and to ensure the final product meets specifications. In addition to being certified for the major elements, these four ferroalloys are certified for more minor and trace element values than any comparable CRMs available.
We released four new ARMI ferroalloy CRMs in powder form in approximately 100g bottles to our portfolio.
One of the most common ferroalloys is, high-carbon ferrochrome which is used almost exclusively in the production of stainless steel and high chromium steels. We recently released high-carbon ferrochrome, IARM-FCrP-20, with Cr certified at 68.8 wt%, Fe at 20.6 %, and C at 8.6%. It is also certified for Co, Cu, Mg, Mn, N, Ni, O, P, S, and Si, with informational values for 20 other elements.
Ferrosilicon is utilized for many uses including the manufacture of cast iron, other ferroalloys and silicon for corrosion-resistant and high-temperature ferrous silicon alloys. Our newly released ferrosilicon, IARM-FSiP-20, includes Si certified at 77.0 wt% and Fe at 21.8%. It is also certified for Al, C, Ca, Co, Cr, Cu, Mg, Mn, Mo, Nb, Ni, P, Ti, W, Zn, and Zr with informational values provided for 21 other elements.
To deoxidize steel, ferromanganese is often used which helps to reduce issues with tensile strength, ductility and toughness caused during the production process. Ferromanganese, IARM-FMn-20, was recently added to our portfolio as a powder with Mn certified at 79.7 wt%., Fe at 16.6%, and C at 1.13%. It also has certified values for B, Co, Cr, Cu, Mn, N, Ni, P, S, and Si. Informational values are provided for 22 more elements.
Lastly, we also added ferroboron powder, IARM-FBP-20, to our portfolio with B certified at 18.4 wt% and Fe at 77.0%. It also has certified values for Al, C, Ca, Cr, Cu, Mn, Mo, N, Ni, S, Si, Sn, Ti, V, W, and Zr. Informational values are provided for 18 other elements, including Fe.